EFI Express
VEMS Plug and Play UrS4/S6/200q20v/S2/Rs2 ECU
Regular price
$1,400.00
$0.00
Unit price
per
Finally a plug and play standalone EFI solution for the venerable 20 valve turbo Audi I5 engine! A multitude of engine codes are supported: AAN, ABY, ADU and 3B, all utilizing the stock wiring harness.
The VEMS PnP ecu replaces the factory Motronic ecu in a matter of minutes.
Installation is a snap, only two pins need to be reversed on the factory harness leading to the RPM input on the transmission bell housing. For customers desiring a fully plug and play system an adapter harness can be purchased which accomplishes the pin swap.
For more information, check out the Installation Instructions.
Please specify your engine configuration in the order comments (fuel injectors, turbo, etc) and your ecu will ship with an appropriate basemap to get you started.
The ECU package includes everything you see here: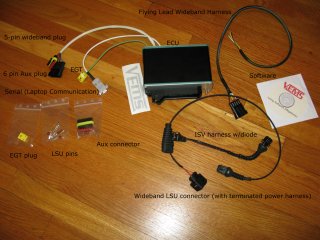 For 3B applications (200q20v) the ecu ships in distributor configuration with an extra harness to allow for running individual coil per cylinder if so desired. Please specify the target vehicle in the order comments.
---